Please be patient, loading video...

This video has not been rated. BE ADVISED. this video presentation contains graphic images and harsh language which may be inappropriate for some viewers.
A video production of the Nassau County Police Department

Online broadband access to this streaming video has been provided courtesy of Paul Jann Advertising, Inc. www.pjads.com
© 2009-10 Nassau County Police Department. All rights reserved.
In the late summer and early fall of 2009, 39 teens from all over Nassau County volunteered to participate in a plain, straight, uninhibited video about hate crime. Teens talking to teens about what a hate crime is and the real world ramifications of committing a hate crime. This video visually demonstrates that turning hateful thoughts about a group into action is Crossing the Line.
This video was produced for the Nassau County Police Department, under the auspices of the Nassau County Executive and the Nassau County Commissioner of Police, which is only part of a greater educational project created by bias crime experts and Nassau County educators.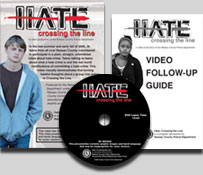 For more information about this program please email: communityaffairs@pdcn.org

Co-Produced by:
Craig Cooper
30 FPS Productions
Paul Jann
Paul Jann Advertising Inc.